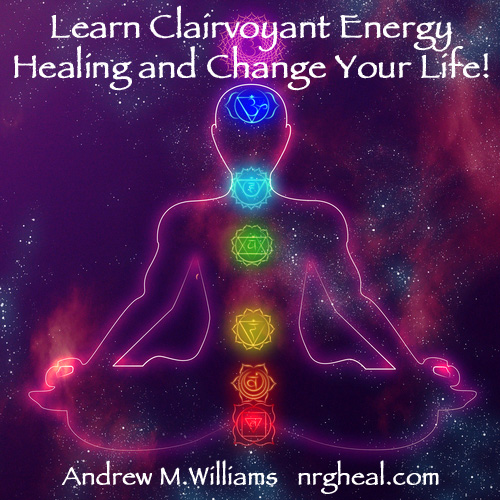 Learn Clairvoyant Energy Healing and Change Your Life!
Do you want to be an authentic energy healer but are still searching for the advanced teaching that can really make a permanent difference? 
Join us for an advanced energy healing workshop in Fort Worth!
Andrew M. Williams & Energy Healing Seminars presents:
Introduction to Spiritual Energy Healing
 1:00pm to 6:00pm SUNDAY February 19, 2017
THE WELLNESS CENTER
2481 Forest Park Blvd, Fort Worth TX 76110
I teach authentic, fully conscious clairvoyant energy healing to those with a deep thirst for this knowledge and art – in this time when it is so deeply needed for human evolution.
In this introductory workshop, I will demonstrate, for both practicing healers and novices, advanced energy healing techniques they can learn to use to transform their own and clients' inner realms, with complete awareness of what is happening.
You will learn the basics of how the chakras truly function and interrelate, and how it is possible to learn to scan them and read the deep energies of others, and profoundly transform them.
You'll be shown how a deepening of your inborn intuition can become extrasensory perception, and methods to open to it and use it as a means of self-discovery for yourself and others. We will practice clairvoyant chakra scanning & conduct at least one volunteer healing, demonstrating how long standing energies located in the physical and subtle bodies are transformed, using Divine Prahnic Light and the power of your own consciousness.
Clairvoyant spiritual energy healing can change patterns of consciousness, discharge entities, prevent disease from manifesting in the physical, heal old trauma and blocks related to personal growth, and open perception to the chakras.
Since this works consciously in the Causal/Spiritual realm, the lessons your soul has incarnated on earth to learn become clearly understood and integrated. Completion with the energy at this level results in Spiritual Healing, quickening evolution and decreasing the necessity of many difficult life experiences. This changes consciousness and habitual patterns, and results in the chakras opening and aligning themselves naturally, as opposed to simply trying to change them from the outside
This is a basic training and introduction to The School of Spiritual Energy Healing, where hands-on magnetic, inner child & energetic voice dialogue process, and awareness release techniques culminating in an Invocation of Light will be taught; techniques that transmute and release negative energies, replacing them with Divine Guidance. In the school, you will learn to both perceive energy & guide your clients to do so. This process creates new levels of self-acceptance, surrender, forgiveness, universal love, and spiritual healing. The School involves deep self-discovery for the student, strengthening and balancing the chakra system from the inside out, so that life's tensions may be continuously converted into nourishment for evolution, and Kundalini Energy may be safely released.
These special initial classes are a preparation for The School of Spiritual Energy Healing, launching in 2017, and are offered at $65 each, or $200 pre-paid for all 4 (a $60 savings).
All classes are from 1:00pm to 6:00pm.
The dates for these classes are on 4 consecutive Sundays:
Sunday, Feb. 19, 2017
Sunday, Feb. 26, 2017
Sunday, March 5, 2017
Sunday, March 12, 2017
Telephone (817) 926-9642 (Wellness Center) & (817) 925 6824 (Andrew M Williams).
BIO – ANDREW M. WILLIAMS
Andrew discovered his own innate ability to use healing energy in the 1970s. After many years of alternative healing studies, he became a Certified Advanced Energy Healer in 1997, graduating the seminal School of Energy Mastery, (no longer in existence). Andrew is currently expanding his Energy Healing practice in Fort Worth, Texas, by conducting workshops as a prequel to his School of Spiritual Energy Healing, debuting in 2017. Andrew is a Sufi initiate, and draws from this powerful stream of ancient wisdom in his work, along with Aramaic wisdom teachings.
A longtime student of metaphysics, Spirituality, energy healing and alternative physical healing, Andrew has conducted workshops for Unity Church, IONS, and several other groups. To schedule an appointment with Andrew or to book him for a speaking engagement, please call him at 817–925-6824.
For the past 20 years he has been in private practice, honing and improving his skills, and carrying a deep longing to share them with others.
Now The Time Has Arrived!
Hosted by:
The Wellness Center
Dr. Kari Rollins, D.O., proprietor
Holistic Medical Practice & Kundalini Yoga Center
2481 Forest Park Blvd, Fort Worth TX 76110
(TCU area)
Heading southbound on Forest Park Blvd from I-30 in Ft Worth, The Wellness Center is located in the commercial center on the left just before you get to the light at Park Hill Drive (where the lanes of Forest Park Blvd separate into one-ways McCart & Forest Park Blvd, and you must turn either right or left on Park Hill Drive). Get in the left lane of Forest Park Blvd when it becomes 2 lanes, and before the intersection ahead, you will see Macaluso's and Tommy's Restaurants on the left where you turn in, (it's the 2nd  entrance on the left), then curve right then left to the far east end of the building, next to the dance studio. If you miss the exit, just turn left at the traffic light onto Park Hill Drive, then immediately take the first left entrance into the parking lot; The Wellness Center will be in front of you slightly to the right, next to the dance studio. There is ample parking.
Testimonials
Free and Happy
My life has changed so much since our one session. I'm actually free and happy now – before I was full of anxiety. Like a sponge of other people's distant emotions. I don't know what I would have done without you. There were a lot of people feeding off of my energy that I have cut free. You definitely need that energy school up and running – and have a class for empaths!
– Alyssa Challis
Life Changing Phone Session
Hi Andrew, I wanted let you know how amazing our phone session has made me feel, and how my life has changed already. For the first time since I can recall I finally feel comfortable in my skin, the endless pit in my stomach has been nonexistent since that call. I have been enjoying it so much, the pointless fear of darkness and car rides is gone, I actually slept on a car ride today for about an hour and a half, my mother can't even recall me being able to do that since I was a child. Thank you so much, you have been in my prayers every night, may you receive many blessing for the gifts you provide others. I can't wait to continue this process in the future.
– Lacy B.